Unrivalled fast and simple assembly
The ABRICLAIR range is based on three elements: The arch, the spacer and the cross.
Arches and spacers are made of round tubing perfectly balanced and optimized for strength.
They are made exclusively from the finest European S250GD grade steels with the elastic limit guaranteed up to 25daN/mm². This quality requirement is unique on the market.
The exclusive cross linking system assembled by a high-frequency method, doubles the resistance on these 44 cm links. Its internal assembly makes it invisible and ensures a long service life for the plastic films.
These ABRICLAIR tunnels are assembled directly on the ground for storage and do not require any concrete. They can also be installed on walls usually when building livestock tunnels.
This tunnel design facilitates self-assembly or assembly with technical assistance.
Each ABRICLAIR tunnel is unique and must comply with the EN 13031-1 standard depending on the region and the construction altitude.
ABRICLAIRTM
IN DETAILS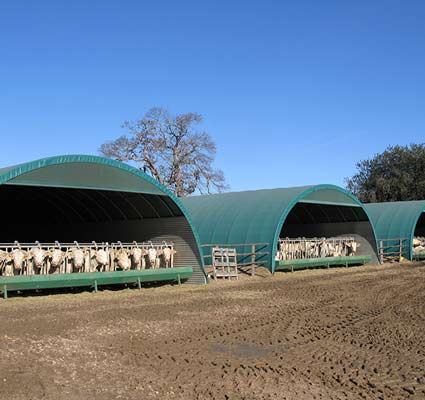 DIMENSIONS
6m00
7m00
8m00 OGIVE
9m30
10m50
Diameter of the tubes (round tubes)
⌀ 60
⌀ 60
⌀ 60
⌀ 60
⌀ 60
⌀ 90
Ridge height
A
2.74
2.79
3.96
3.51
3.95
5.10
Height of straight foot at 0.50m
B
1.69
1.69
1.98
1.72
2.20
1.90
Height under center bar
C
-
2.55
3.70
2.95
3.45
3.17
Height under the edge
D
-
1.95
2.60
2.24
2.74
3.17
Height under top of gable
E
2.00
2.00
2.50
2.00
2.50
3.17
Double sliding door
-
-
3.20 x 2.42
3.20 x 2.37
3.20 x 2.87
4.00 x 3.10