BATICLAIR :
housing for the suckler herd and for cattle for fattening.

Providing support and being attentive to the farmer's needs are our top priorities. Together, we put together the best technical and cost package to house your dairy herd: Stabling for suckler cows, buildings and tunnels for cattle for fattening, tunnels for calf breeding and calves for slaughter.
All our models meet the farmers' needs based on 4 criteria:
The construction type (with or without concrete foundation),
The size of the herd or the lots to be housed,
Herd management: litter accumulated or removed, side or central feeding corridor, grates,
Obtain optimal housing conditions by controlling ventilation and draughts which, when associated with insulation
ensure optimum operation of the building in all seasons and in all regions.
The modular nature and easy handling of our structures means you can assembly your tunnel structure yourself.
Our specialised Assembly department supports our customers daily over the phone, by providing assistance in the field or a full assembly service.
Each tunnel is unique and must comply with the EN 13031-1 standard depending on the region and the construction altitude (snow and wind standards).

Ventilation
1. Windbreaker on sandwich panels - 2. Windbreaker on wall - 3. Roof opening - 4. Chimneys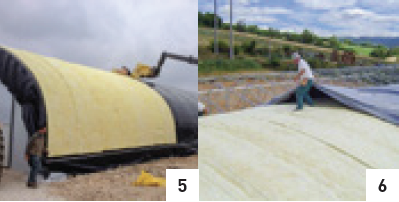 Insulation
5. Roof insulation - 6. Installing the cover

Interior
7. Stabling for suckler cows - 8. Verticlair tunnel - 9. Tunnel for calves for slaughter

Pinions
10. Polycarbonate - 11. Windbreaker with doors - 12. Windbreaker on rails
ABRICLAIRTM
NORDICLAIRTM
VERTICLAIRTM
MULTICLAIRTM
DIMENSIONS
930
1030
1280
640/800/960/1280
Ridge height
A
3.51
4.76
5.20
from 4.5 to 6.28
Height of straight foot at 0.55m
B
1.72
2.20
-
-
Height under cross-tie bar
C/D
2.95 - 2.24
3.82 - 2.62
3.50
from 3.50 to 4.50
Height under top of gable
E
2.00
2.92
-
-
Double sliding door
3.20 x 2.37
3.20 x 3.10
-
-