BATICLAIR :
Specific tunnels are provided for rabbit breeders

By their design, the quality of the insulation and ventilation, our tunnels provide an unrivalled breeding environment to meet the requirements of this type of production.
The widths are adapted to the materials used within the tunnel and are mainly designed for 3 or 4 cage widths.
The ease of construction of our different models enables farmers to do most of the assembly work themselves. Assistance from our technical department will be called on for the more intricate tasks.
Each tunnel is unique and must comply with the EN 13031-1 standard depending on the region and the construction altitude (snow and wind standard).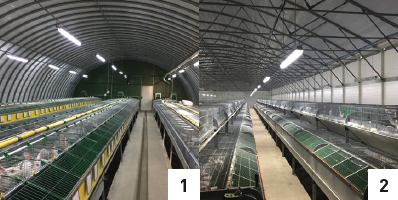 Interior
1. ABRICLAIR - 2. VERTICLAIR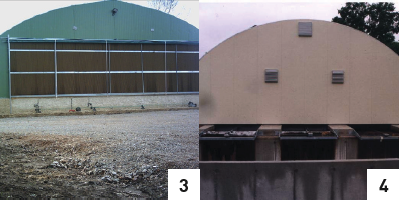 Pinions
3. Cooling - 4. Extractors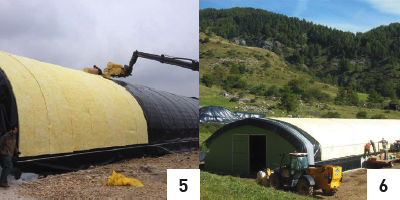 Insulation
5. Roof insulation - 6. Installing the cover
ABRICLAIRTM
NORDICLAIRTM
VERTICLAIRTM
DIMENSIONS
700
930
1030
940
1200
1280
Ridge height
A
2.79
3.51
4.76
4.50
4.81
5.50
Height of straight foot at 0.55m
B
1.69
1.72
2.20
-
-
-
Height under cross-tie bar
C/D
2.55 - 1.95
2.95 - 2.24
3.48 - 3.60
-
-
-
Height under top of gable
E
2.00
2.00
2.92
3.10
3.27
3.50
Double sliding door
-
3.20 x 2.37
3.20 x 3.10
from 3.20 to 4.00m (wide)