BATICLAIR :
housing for flocks of sheep for milk and meat

BATICLAIR, is a whole range of insulated tunnels adapted to the size of your sheep flock.
While ABRICLAIR and NORDICLAIR are simple structures for moderate sized farms, VERTICLAIR and MULTICLAIR tunnels are designed to meet the needs of large herds requiring bigger surface areas.
The brightness inside our tunnels associated with the high quality of the ventilation offers unmatched levels of animal welfare and pleasant working conditions. Used in various research centres their effectiveness is undeniable and widely acknowledged.
Each tunnel is unique and must comply with the EN 13031-1 standard depending on the region and the construction altitude (snow and wind standard).

Ventilation
1. Side ventilation - 2. Insulated continuous louver opening - 3. Top of gable opening - 4. Skylight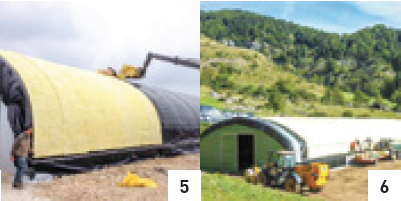 Insulation
5. Roof insulation - 6. Installing the cover
Interior
7. NORDICLAIR - 8. VERTICLAIR - 9. MULTICLAIR

Pinions
10. Polycarbonate - 11. Sandwich panels hinged doors- 12. Sandwich panels sliding doors
ABRICLAIRTM
NORDICLAIRTM
VERTICLAIRTM
MULTICLAIRTM
DIMENSIONS
850
930
800
1030
940
1200
1280
640/800/960/1280
Ridge height
A
3.23
3.51
3.96
4.76
4.50
4.81
5.20
from 4.50 to 6.28
Height of straight foot at 0.55m
B
1.70
1.72
1.98
2.20
-
-
-
-
Height under cross-tie bar
C/D
2.82 - 2.00
2.95 - 2.24
3.00 - 2.19
3.82 - 2.62
2.84
3.26
3.50
from 3.50 to 4.50
Height under top of gable
E
2.00
2.00
3.20 - 2.42
3.20 - 3.10
-
-
-
-
Double sliding door
3.20 x 2.20
3.20 x 2.37
3.20 x 2.42
3.20 x 3.10
-
-
-
-