A maximum surface area to achieve the highest performance
The structure lies on technological construction bases:
Single-block constant inertia post heads connect up the post-arch-gutter
Gutters made from galvanised steel
Telescopic foot (patented)
Purlin and aluminium fitting clips
Double-sided galvanised Z275 15/10e and 20/10e
S 250 GD grade steel
---
MULTICLAIR tunnels are intended for all livestock types requiring large housing surface areas. The features of these tunnels are your guarantee of unmatched animal comfort and welfare:
Windbreaker
Manual or motorised side vents
Insulated continuous louver openings on gutters
Insulated with 80 to 200 mm thick glass wool
Chimneys
The creation of large surface areas enables them to be highly cost-effective.
MULTICLAIR tunnels are assembled on concrete stands. Technical assistance by a specialised assembly company or full assembly is recommended for a fast and efficient assembly.
Each MULTICLAIR tunnel is unique and must comply with the EN 13031-1 standard depending on the region and the construction altitude.
MULTICLAIRTM
In DETAILS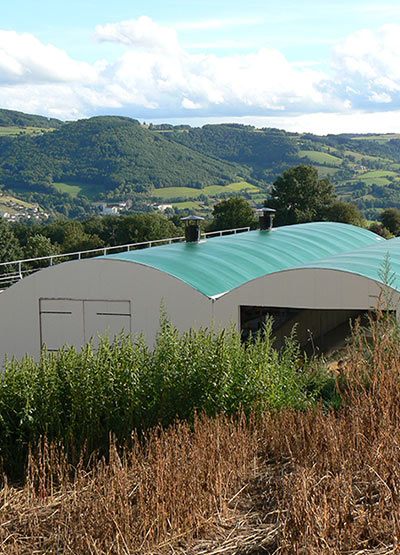 DIMENSIONS
6m40
8m00
9m60
12m80
14m40
Demi-Lune AÉRO
1.04
1.15
1.35
1.90
2.17
Hauteur sous Chéneau
C
3.00 à 5.00
Hauteur passage Max sous porte coulissante
1.60 / 2.00 / 3.20 / 4.00
Hauteur passage Max sous porte battante
2.00 / 4.00