Easy vertical-post based tunnel construction
In this way, the facility achieves optimal volume, light and ventilation
Arched posts, arches and spacers are made from round tubing:
S 250 GD grade steel
Double-sided galvanised Z275 15/10e and 20/10e
Diameter 60 mm and 32 mm
Telescopic foot (patented)
---
VERTICLAIR tunnels are intended for all type of livestock and the features of these tunnels are your guarantee of unmatched animal comfort and welfare:
Windbreaker
Manual or motorised side vents
Insulated continuous louver openings

Insulated with 80 to 200 mm thick glass wool

Chimneys, skylights
Cooling
The VERTICLAIR tunnels are assembled on concrete stands maintaining easy tunnel assembly at a very cost-effective price. Technical assistance by a specialised assembly company or full assembly is recommended for large installations.
Each VERTICLAIR tunnel is unique and must comply with the EN 13031-1 standard depending on the region and the construction altitude.
VERTICLAIRTM
IN DETAILS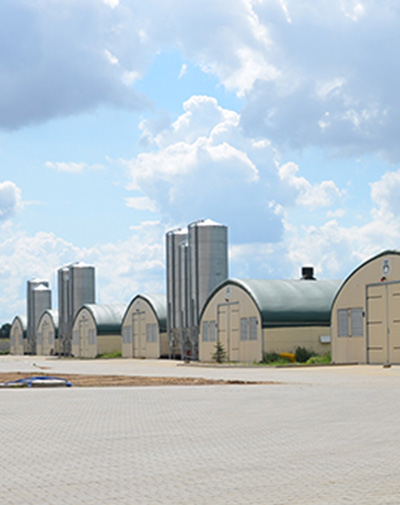 DIMENSIONS
9m20
9m60
12m80
Ridge height
3.90 - 4.10
4.60 - 5.00
5.50
Height under growing medium
2.60 - 2.80
3.10 - 3.50
3.50
Double sliding door
1.60 / 2.00 / 3.20 / 4.00